Posted in
April 2014
At Delft University of Technology a pilot scheme has been launched in April 2012 to introduce more advanced technological tools for teaching mathematics and other technical-scientific subjects. A virtual chalkboard was integrated with an Audio-Visual Information Technology (AV-IT) facility to present four video signals simultaneously. These video signals are for example PowerPoint, virtual chalkboard instances, PDF documents, Internet Explorer or video clips. Students watch all video signals at once to get a comprehensive overview of the method being taught.
In spring 2013 I have presented the paper "Advanced Teaching with Four Parallel Video Signals" at the 7th International Technology, Education and Development Conference in Valencia in Spain. It was based on early experiences.
Meanwhile a total of eight evaluation periods have been taken place. Hence I have been revising and expanding the paper, which describes the collected results of 457 completed questionnaires and 238 students' comments.
Both lecturers and students are enthusiastic and prefer the SMARTboard with four quadrants over the old-fashioned chalkboard. Such encourages us to provide more lecture halls with a similar system.
Het tentamenbeleid van de TU Delft is herzien. Per 1 januari 2014 kunnen studenten alleen deelnemen aan een tentamen wanneer ze zich hebben aangemeld in OSIRIS, waarvoor een geldige inschrijving aan de TU Delft nodig is. Zij krijgen dan ook alleen toegang tot de tentamenzaal met een papieren aanmeldbewijs of met een virtueel aantoonbaar aanmeldbewijs op hun smartphone.
Het controleren van de aanmeldbewijzen kost echter veel tijd. De zaaldeuren van de tentamenruimte gaan tenslotte pas 15 minuten voor aanvang open, zodat een vlotte toegang bij grotere zalen niet haalbaar is.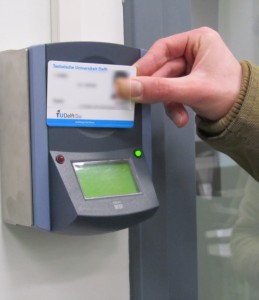 Om de surveillanten bij te staan, is gezocht naar technologie om dat controleproces te automatiseren. In plaats van het tonen van een aanmeldbewijs is het nu mogelijk om de campuskaart te scannen voor toegang tot de zaal. Klik hier voor een kleine videoimpressie.
In het document "Evaluatie en Adviesrapport Wand- en Handreaders voor Zaaltoegang Registratie Systeem" wordt het pilotproject uitgebreid beschreven.