Divergent legacy systems, mass education and developments such as blended practices and flipped classrooms have confronted Delft University of Technology with a situation that curricula are to be converted into active education practices but in outdated teaching and learning spaces. Our university was urged to start streamlining the current lecture halls and classrooms in order to facilitate education practices of tomorrow while maintaining to support those of today.
The workgroup Transforming Education Spaces is charged with classifying the required education spaces, with designing its appropriate affordances, with composing a Cookbook Education Spaces and with proposing a planning for the coming five years to transform the current situation.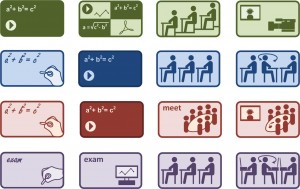 Pictograms that indicate Teaching and Learning Space with its Affordances.
The paper "Transforming Education Spaces to Sustain Pedagogical Change" was presented at the ninth edition of the INTED (International Technology, Education and Development Conference). It describes how the Cookbook Educational Spaces came into existence, which content is addressed and how multiple disciplines of pedagogy, interior design, construction, infrastructure, AV-IT and ergonomics have been working together.